Lost and Found in Aspen is Now Available for Pre-Order
It's official. My debut novel, Lost and Found in Aspen, is entering the world on November 28, 2017. Writers often compare the publication of a book to the birth of a baby. It's hard to believe that my manuscript is coming to life—in the physical form, no longer marinating in a file on my computer facing edit after edit. From an inspirational seed in my mind, the story grew into something tangible, written with love, perseverance, patience, and of course a little frustration sprinkled here and there.
Parenting requires similar attributes. As a mother of two teenaged children, I am doing my best to be supportive and guide them with my heart to ensure that one day they will be ready to leave our home as compassionate and self-sufficient adults. In a similar vein, my book has been baking in the oven for quite some time and is now eager to be fed to readers who are looking for a funny, emotional, and uplifting story about a young woman facing life's roller-coaster ride.
Here's a brief synopsis of the book: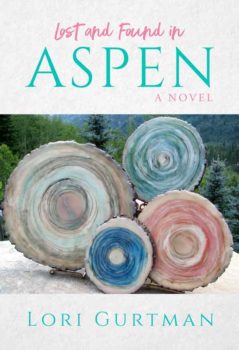 Moving to Aspen, Colorado after college is a dream come true for Hope Martin. Living in the breathtaking town, she pursues a career as an artist, enjoys the mountain activities, and even falls in love. But getting married and starting a family takes Hope on a different journey, until a tragic accident occurs and her life spirals out of control. Ultimately, Hope must find a way to heal her open wounds.
Pre-order a copy, and get ready to accompany Hope as she moves through murky waters, trying to stay afloat.